« back to mainpage
FREEDOM OF RESEARCH
Dr. Franz B. Humer, Chairman of the Foundation Board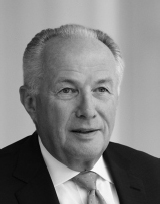 When doctoral candidates are settling on the topic for their thesis, most of them set their sights high. I believe that there are four underlying criteria that determine whether these students will be successful and will be able to write a dissertation whose content will remain relevant.
First and foremost, an environment that allows for a concentrated and interconnected way of working is key. Next, the material framework conditions need to be right while they are researching and writing. After all, those who commit themselves to writing a doctoral thesis for what is usually three years after their Master's degree must be able to rely on being in a position to do so without material hardship. Time-consuming part-time jobs are simply no longer an option for today's doctoral students if you consider how seriously they are trained – this is where we come in. We commit to providing "our" doctoral candidates with financial support for the entire duration of their thesis.
In addition, the opportunity to work on part of their dissertation abroad, either at a university specialising in the respective subject or on field research, is constantly gaining in importance. This exchange across borders has a very positive effect on the quality of doctoral theses, as our experience from recent years also goes to show. Simply shutting yourself away in your own tiny room for three years and only letting the rest of the world in through the Internet is not good enough.
However, I feel that the most important precondition is that the doctoral candidates are guaranteed full and unrestricted freedom of research. I would like to remind you that this is a fundamental civil right, at least in Europe and the USA, and is generally protected by a country's constitution. In Switzerland, freedom of research is protected by Article 20 of the Federal Constitution. In Germany, freedom of science, research and teaching is enshrined in Article 5 of the German Basic Law, whilst Austria regulates this important issue in its Federal Constitutional Law.
In other words, what in legal terms is crystal clear in theory, is often subject to strenuous tests of endurance in practice. Attempts to steer study results in a certain direction are perhaps less common today than they were even just a few years ago. However, efforts to smooth out dissertations and draft them in such a way that they do not spark unwanted public debate are still happening in individual cases. The effects of interventions like this are serious. Those who start their academic careers by being restricted in their freedom of research run the risk of automatically censoring their work later down the line too.
This is exactly what we do not want. Freedom of research is one of the most important prerequisites when it comes to tackling present and future problems with any hope of success. We must therefore do everything in our power to ensure that freedom of research is guaranteed.