OVERCOMING OBSTACLES
Dr Franz B. Humer, Chairman of the Foundation Board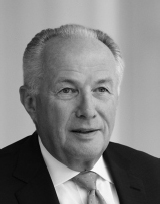 It never ceases to amaze me how focused and farsighted "our"doctoral students at the universities in Salzburg and Basel are when they plan and structure their mostly three-year theses. I remember my generation 40 or 50 years ago being much less meticulous about our own dissertations and often leaving the necessary clarifications to the very last minute ...
read more »


CURRENT THESES
UNIVERSITY SALZBURG − European Union Studies
At present the Humer Foundation is supporting the following doctoral students: |  read more »
UNIVERSITY BASEL − Africa
At present the Humer Foundation is supporting the following doctoral students: |  read more »
APPLICATIONS
The Humer-Foundation is currently concentrating its support on doctoral theses within the research focus of the Universities of Salzburg (Europe) and Basel (Africa). We are therefore not in a position to accept other kinds of applications.
COMPLETED THESES
In 2020, the following theses made possible by our Foundation were completed:
UNIVERSITY OF SALZBURG − European Union Studies
SANDRA HUMMELBRUNNER
− The Consistency of European External Action
Milena kern
− Essays on the Liberalisation of International Trade in Services – Chances and Risks of Freedom of Services in the EU Common Market
Isabel staudinger
− Conditionality. EU Financial Assistance as New Enforcement Mechanism of EU Law
UNIVERSITY OF BASEL − Africa

Stephen Asol Kapinde
− Shifting Pendulum: The Struggle
for Prophetic Advocacy in the Anglican Church towards Democratic Transformation of the Kenyan State (c. 1963–2012)
UNIVERSITY OF ZURICH − Asia and Europe
Nina Rageth
− Religion and Medicine. South Indian Guru- Organisations and Siddha-Medicine.