« back to mainpage
IN DEPTH.
Dr. Franz B. Humer, Chairman of the Foundation Board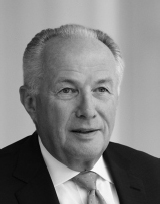 Superficiality shapes our time. This is apparent not only in the topics and contents of many media, but also in the way companies operate. Of course, digitisation and faster communication in particular have contributed to people today often writing, replying and stating a position with-out taking the time to reflect. The surface usually looks very different to the interior, the substance, however. This is precisely why it is important that well-educated young people go against the tendency towards superficiality and get at the truth.
This is what "our" doctoral candidates do – they devote three years of their valuable lives and working time in order to gain much more than a mere overview of their field of expertise. As part of their work, they get to the bottom of problems, question judgments and prejudices, ponder, and as a result develop often surprising solutions. Some theories proposed by doctoral candidates at the beginning of their research do not stand up to in-depth review in the course of the dissertation. Much of what seems clear does not survive an evidence test.
Precisely this, it seems to me, is the purpose of a dissertation. It is about aligning assumptions with reality, testing hypotheses, working in depth. I understand well that this is not for everyone. I still remember my own dissertation, which often could not go fast enough for me – the reality of working life was too exciting compared to the academic world. But in this fast-paced age especially, the following applies when writing academic reports: good things take time. And that is why I admire our doctoral candidates, who not only take enough time for their subject, but are also willing to question their scientific theories by conducting field research and to adapt them if necessary.
All this I gather from the dissertations of those talented young people at the universities of Salzburg, Zurich and Basel to whom we have offered targeted support over the past nine years. While reading these "books", whose resemblance to those from my student days is limited to their outer appearance only, I notice time and again how thorough and fact-oriented the authors' work is. You can only do in-depth work if you have a solid basis.
I am therefore grateful to all those whose dissertations contribute to demonstrating that serious, persistent work on important topics and issues creates lasting assets and the foundations for our society. To continue supporting this with our limited resources remains our duty.