« back to mainpage
OVERCOMING OBSTACLES
Dr. Franz B. Humer, Chairman of the Foundation Board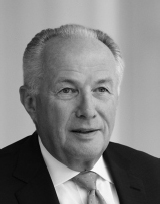 It never ceases to amaze me how focused and farsighted "our"doctoral students at the universities in Salzburg and Basel are when they plan and structure their mostly three-year theses. I remember my generation 40 or 50 years ago being much less meticulous about our own dissertations and often leaving the necessary clarifications to the very last minute ... Those times are long gone: nowadays, doctoral students generally know right from the start which semesters they will be spending at their home university and when and where they are planning to go abroad. And this makes a lot of sense, not least because today's doctoral thesis involves much more research and "field work" than it used to.
Suddenly, however, it is all change once again: the COVID-19 pandemic has had a severe impact on doctoral students' work for almost a year now. Border closures and quarantine regulations mean that planned stays abroad are now virtually impossible or only feasible under extremely restrictive conditions. This is especially the case for the field studies that the doctoral students from the University of Basel had planned for the key research topic "Africa". Since the second wave of the pandemic struck, however, travel has even become nigh on impossible in Europe, the focal point of the theses that we are supporting at the University of Salzburg.
Of course, the situation is being exacerbated by the restrictions imposed at the universities themselves. Actually stepping onto university premises has been unimagi-nable for some time now, and the all-important personal interactions and discussions with professors and students are clearly suffering greatly.
In short, writing a dissertation that adds genuine value to the academic community is challenging enough as it is under normal circumstances. The COVID-19 pandemic is thus another very sizeable obstacle that also needs to be overcome.
I am therefore all the more impressed by the astonishing energy and optimism shown in 2020 by the doctoral students we supported. All of them responded with great flexibility to the changing circumstances and tried to make the best out of an unprecedented situation. I am delighted that, through our financial contributions, we have been able to help ensure that no additional uncertainties or problems arose in this regard. We have an obligation to do all we can to enable them to continue and successfully complete their theses despite potential delays and the need to change plans.
In these times in particular, the longstanding partnership based on trust between the staff responsible at the two universities and our office is proving its worth. Time and again, they put their heads together to find solutions that will work in practice. This gives me confidence that the obstacles thrown up by COVID-19 will be overcome successfully in 2021 too.